GameArt gallery image
"Alice: Final Epiphany" by Insanity Inc.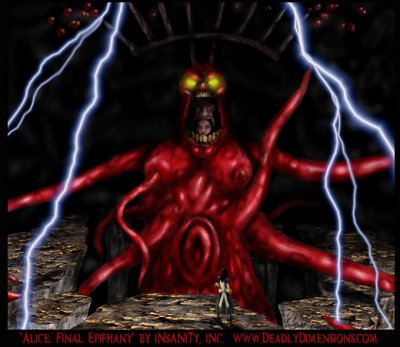 Image details
Title: Alice: Final Epiphany
ID: 01061
Artist name: Insanity Inc.
Posting date: 1998-07-20 (a Monday)
Artist website: http://www.deadlydimensions.com
Tags: alice, american, mcgee, wonderland, girls, monsters, mr, hat, satan, doom, final, boss, thunders, storms, paintings
Image size: 30.68 KB
Votes: 22
Please be sure to read the Copyright & Legal information text on the About & Help page.
Download
Image in full size: 01061.jpg (285.24 KB)

Permalink
Link to this page: https://gameart.onderka.com/display/01061
Legal information & about
Please see About & Imprint