Last updates
Skip to content.
April 2021
Big update, here we go:
Made some changes to the CSS for images in mobile/responsive view
Changed the default site font
An Error page with the world's first working Quake teleporter: Click to 404
Added a list of GameArt Spotlight articles
Reworked all Spotlight pages and their images with a slim lightbox
Fixed 2 missing images for spotlight #77, thanks to Leonid Kozienko
Added information to the About & Help page
Tweaked the search function and added a search icon to artists' names
Converted all lists into tables, see my files or a a sexy search
Fixed some corrupt images
And I'm sorry to learn that Francis Tsai (see his submissions here) already died back in 2015. I especially loved his Hello Nurse Spotlight article and The Sniper.
April 2020
Made some changes to CSS files, enabled HTTP/2 and IPv6, beautified all URLs (like /display/01161 or /about/), changed some code here and there and moved to a new server.
November 2017
Served the first request to hide an image for privacy reasons. Go find it.
April 2016
Let's encrypt it.
October 2015
Fixed the corrupt JFIF-header of Craig Mullins' Soulblighter full size image.
March 2015
Revamped much of the PHP code, migrated to PHP 5.6 and mysqli, moved the tags an image was filed under to the image title (onmouseover), beautified the search results by adding some extra line spacing and a link for images having a spotlight article - See an example search result. Also fixed a JavaScript glitch that prevented scrolling on many mobile devices, validated all as HTML5 and fixx0red some typ0s.
But now let's start:
A tribute to GameArt
Long before LoLcats conquered this planet and the walrus lost its bukkit there was Quake by id Software. This game like no other inspired many people to create content and art in form of poems, haikus, comics, game mods, short stories or just screenshots with overlayed speech bubbles - just for fun.
GameArt.com was the one-stop site to collect all this art and news from the net related to game mods, graphics software, tools like model and skin editors as well as other community events and projects.
Additionaly, GameArt.com featured web hosting for artists, polls, contests and giveaways, tutorials, spotlight articles on artists and their projects (Web Archive snapshot), software reviews and a job area where people could offer their skills and/or look for needed artists. Some creative heads even found jobs in the gaming industry - like for example Dhabih Eng who is working as a conceptual artist for Valve Software now. Craig Mullins and Mike Krahulik even have their own Wikipedia articles - go figure!
Archaeology
Much of this timeline was recovered from memory (which unfortunately went up in smoke from time to time those days...), Stephen Heaslip's Blue's News archive, the Internet Archive Wayback Machine, PlanetQuake's news archives and old backup CDs which were partly corrupted and unreadable. Braindead's CDs were of a higher quality, obviously. Welcome to the digital age!
PlanetQuake was not yet owned by IGN those days, Joost Schuur aka lotlhwI and Dave Kosak aka Fargo were our main contacts at PlanetQuake and Blue from Blue's News already seemed to be working 48 hours a day sitting in front of his screen pumping out news.
Braindead's Quake Art Site
In 1996 there was Braindead's Art Site hosted by the famous PlanetQuake Network at www.planetquake.com/braindead/ collecting news from Quake mods, related tools and graphics software and an artwork gallery hosting over 800 pictures as of September 21, 1998.


Logo of Braindead's Quake Art Page
Braindead prepared for closing his site in December 1998 with a call to get all hosted artworks from a PlanetQuake mirror and a note to visit GameArt.com: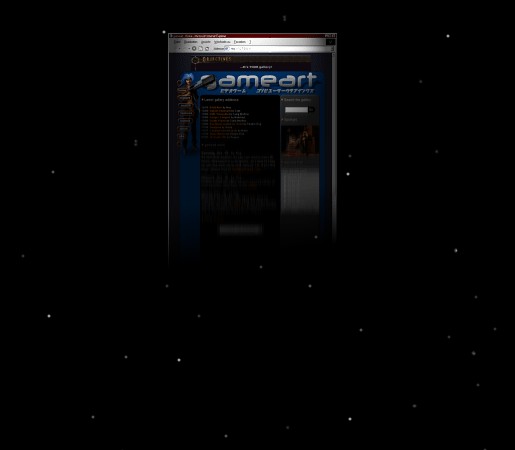 Braindead's Quake Art Page closed
Nop from CO2, the "Clan Of 2"
Nop and Tek from CO2, the Clan Of 2 started out at http://co2.telefrag.com and moved to the PlanetQuake Network at www.planetquake.com/co2/ later. They created Quake related art and comics and provided web design, skins and graphics for other PlanetQuake hosted sites, projects and game mods like for example
Quake Done Quick (Logos and skins)
GibStats game log analysis tool (Site)
Quake DeveLS (Site)
Navy Seals total conversion (Site)
Abyss of Pandemonium Commercial Quake Addon (Digital collectors' cards)
and many more.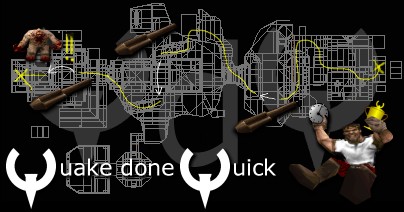 Quake done Quick Website Logo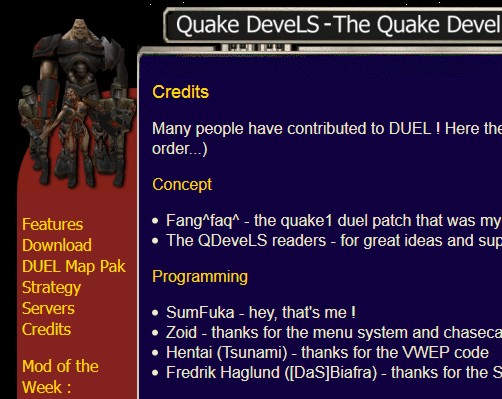 Quake DeveLS Website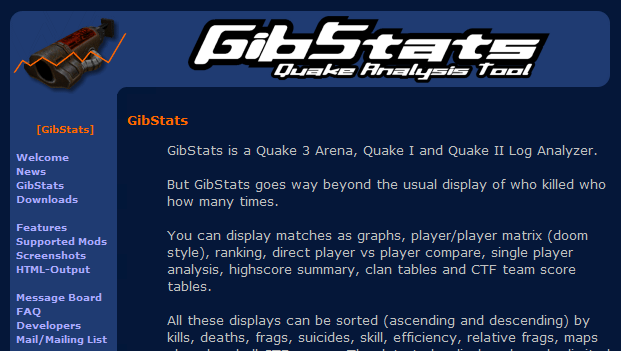 GibStats Tool Website
Nop released his Quake Comic Death at DM5 in the tradition of other comics like Dank and Scud by Michael Houston (mirror) and The Adventures of Axeboy on December 18, 1997. Death at DM5 can be viewed here.
A guy named 3, a very talented artist and third member of CO2 left CO2 on May 26, 1998 after a short but very creative period (PlanetQuake news post). On June 19, 1998 CO2 finally closed its doors to concentrate their energy on "an upcoming site" (PlanetQuake news post).
Tek, the "other half" of CO2 is still into AI, machines and Robocup today.
Mix both, shake well, stir - it's GameArt.com
In the middle of 1998 Braindead and Nop who knew each other for some time, prepeared to merge their sites into a comprehensive collection and one-stop source for all things related to computer game fan art.
Preparation
On October 15, 1998 work started and immediately PlanetQuake noticed:
nop made a lengthy update to the URL formerly known as CO2, basically giving a status update of the latest project he and Braindead have been working on. Sounds like the new site's coming along great... stay tuned!
Source: PlanetQuake news posting
GameArt.com launch
On January 1st, 1999 - The day the Euro currency was introduced - GameArt launched:
The latest addition to the GameSpy Network is GameArt, a site dedicated to gaming-related artwork.

The site is brought to you by Nop and Braindead, formerly of co2 and Braindead's Art Site, two of the best Quake Art sites around.

The site already features hundreds of pieces of gaming art, which you can browse or search, as well as being able to sit back and relax as the site flicks through pictures for you. You can vote for your favourite pieces of art, and bring up a list of other pieces by that artist.

If that's not enough for you, there's also related features, news and reviews on gaming art and all the utils you need to create it... Head over there now to take a looksie!
Source: PlanetQuake news posting, Blue's News posting (Scroll down)
Picture of the day at PlanetQuake.com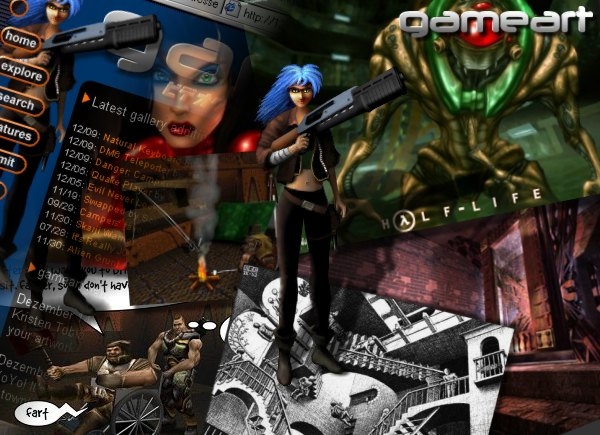 PlanetQuake.com picture of the day, January 1st, 1999
From the ashes of CO2, rises GameArt! Braindead and Nop showcase the very best in fan created game-based art. Browse the vast collection, and maybe submit some of your own! Maybe there's a little Da Vinci in ya!
Source: PlanetQuake picture of the day for January 1st, 1999
Site development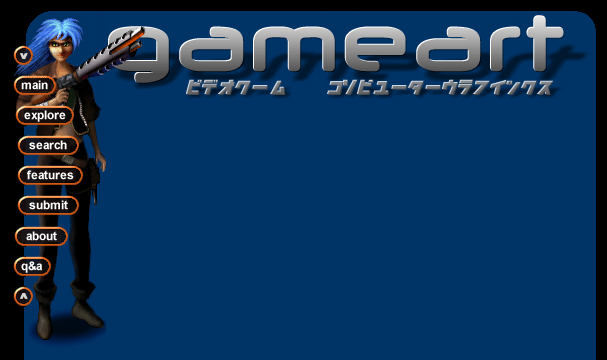 GameArt.com site concept by Braindead and Nop - notice the early version gun.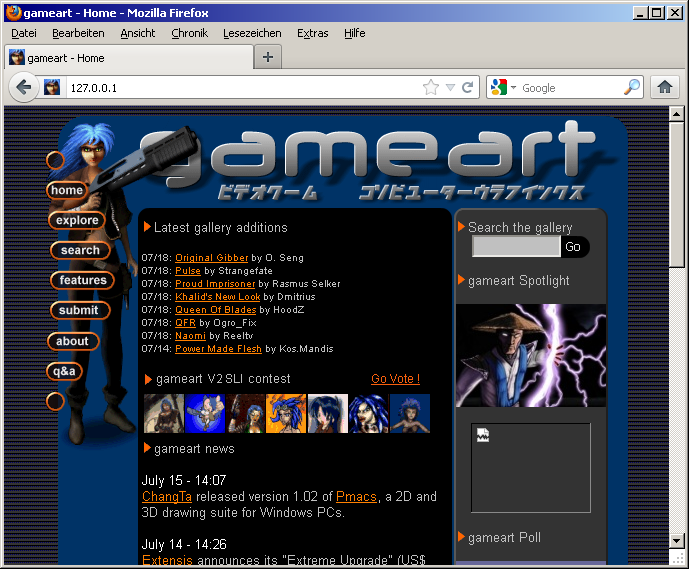 GameArt.com running in a Windows 2000 VM (original size for 800x600px displays). Backups, baby!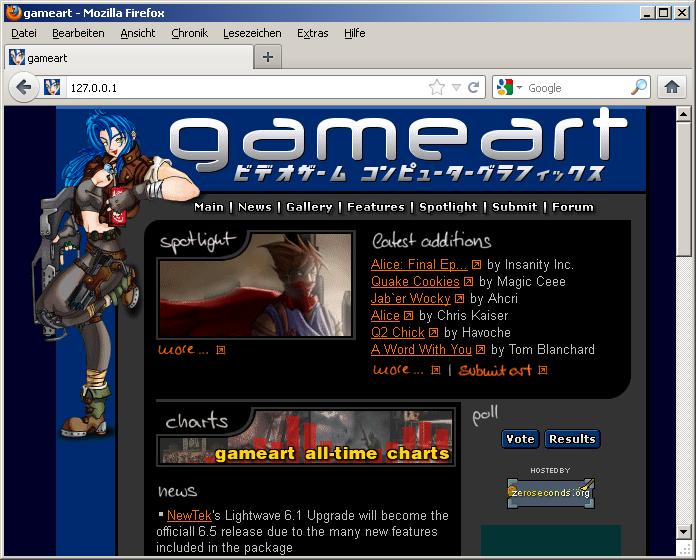 Later version of GameArt.com.
The sad end
Somewhen in 2003 RealLife™ caught us and we were not able to keep up. While The Internet Archive still shows updates on July 21st, 2002 GameArt.com was closed somewhen around August 2003: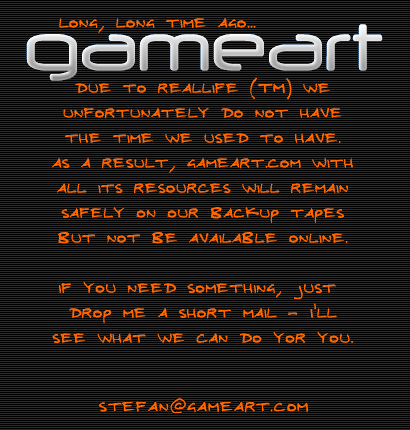 GameArt.com good bye message
Braindead then moved away from Germany while Nop still enjoys going 140mph+ on the Autobahn and posting random things about his hardware fetish at onderka.com. The domain gameart.com itself was sold to NCsoft, a company specialized on MMORPGs, around 2007.
Digging in the dirt yourself
For more boring details and chronologically correct stuff simply head over to the PlanetQuake news archive and do a search on co2, braindead or gameart. The Internet Archive Wayback Machine also has some partly working snapshots of the site.
Data migration
The original Microsoft Access mdb database (Yes, really!) of GameArt.com running on Windows NT 4.0/IIS was dumped to XML files on a Windows 2000 Server VM in VirtualBox, imported into MySQL and mixed with some PHP magic. This server now is a dedicated dual quad core Xeon Gold with 32 GB of RAM and almost 1 TB disk space owned by Nop.
All images (latest is 1292 as of now), weighing in at about 50MB, are available with complete data (artist/submitter name, URL, tags, votes) - most of them also in a higher resolution. See the diagnostics page for a detailed overview on currently available images, zip files and image meta data.
Contact
If you can spot yourself here, if you find one of your long lost creations or if you just want to say "hello again", just drop me a line at gameart@onderka.com. This is for you, 3, Tek and all other artists out there.