GameArt Spotlight #12
"Battlezone Cherynobol" by Pavel Lagutin
Image details
Title: Battlezone Cherynobol
Gallery ID: 00541
Artist name: Pavel Lagutin
Posting date: 1999-03-18 (a Thursday)
Artist website: http://www.race2.da.ru
Tags: spacemarines, soldiers, scfifi, aliens, curiosity, masks, invasions
Image size: 28.92 KB
Votes: 43
Please be sure to read the Copyright & Legal information text on the About & Help page.
Spotlight article
I am 20 years old, living in a Russian town called Stary Oskol. I attended an art school from the age of 6 to 16, but my artistic experience comes from looking at other artist's works, and trial and error. I work on various design projects including short commercials for local television, graphics for booklets, newspapers and webdesign. My current hardware configuration is a Pentium II 233Mhz with 64MB RAM, a 14 inch Funai monitor (Working with 800x600 24bit resolution), a SIS 6215 video card with 2MB and last but not least a Wacom Intuos 9x12 pad.
This artwork was my premiere in using Painter 5. I also used PhotoShop to divide the picture into two layers (foreground and background). No filters were applied except some blur, it is all handmade.
First I drew a simple sketch...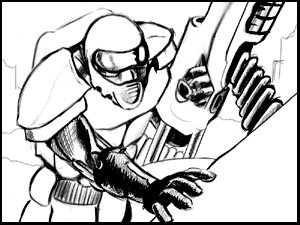 ...added colors and lighting....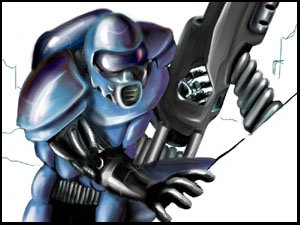 and finally drew the background.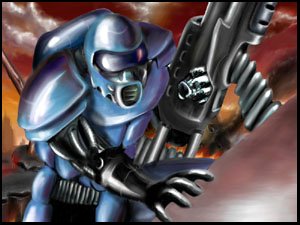 Text written by Pavel Lagutin for GameArt.com