GameArt Spotlight #15
"Shogo - Kura Akkaraju" by Phantom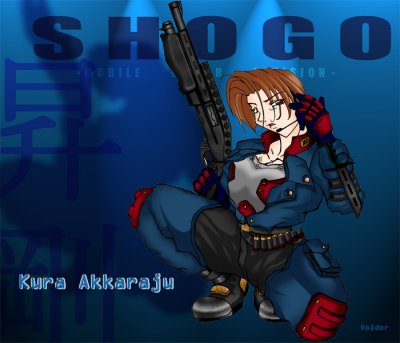 Image details
Title: Shogo - Kura Akkaraju
Gallery ID: 00545
Artist name: Phantom
Posting date: 1999-03-25 (a Thursday)
Artist website: Unknown
Tags: shogo, mobile, armor, riot, mechwarriors, battletechs, anime, manga, comics, japanese, litech
Image size: 24.04 KB
Votes: 42
Please be sure to read the Copyright & Legal information text on the About & Help page.
Spotlight article
First, the tools i used for this image are MetaCreations' ArtDabbler for the rough sketch, and PhotoShop 5 for everything else. I always like to use ArtDabbler for the roughs of all of my works, because it gives me a more realistic pencil tool than PhotoShop. I want MetaCreations Painter, but cant afford it yet. Anyway, I took the rough over to PhotoShop and turned the color of the lines to light-blue, then drew the solid black lines, which were actually used in the final image over it on another layer. When i finished, I deleted the blue lines... and tada! I got a nice little outline for the character!
Now for the coloring. All layers used for the colors are in multiply mode so the base lines at the bottom stand out clear. The shaded parts are multiplied base colors. The background, as you can imagine, is a combination of PhotoShop filters and effects. I don't think i have much to say about it.... Fonts are in Impact, and the font used for "Kura Akkaraju" is OCR-A-Extended I think.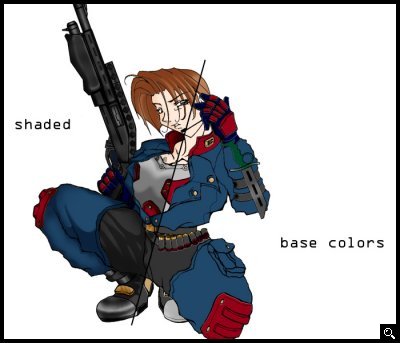 Text written by Phantom for GameArt.com