GameArt Spotlight #16
"Urban Assault" by John Bergerud & Dan Kemp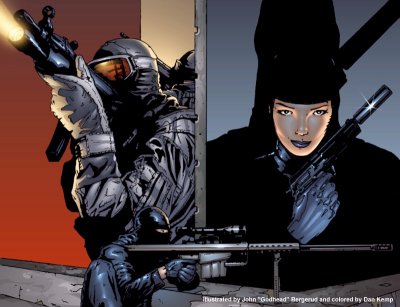 Image details
Please be sure to read the Copyright & Legal information text on the About & Help page.
Spotlight article
Hello, my name is John "Godhead" Bergerud, I am the Gaming News Editor for GA-Source and I illustrate their weekly comic. But, in my spare time I like to do conceptual artwork for various game companies and TC that I think are interesting to me. This latest piece I illustrated is actually a wallpaper for the upcoming Half-Life TC, Operation Urban Assault, OpUA in which I am the concept artist.
I started off by drawing a rough sketch of an idea I had. (I wanted a montage feel, but still wanted to keep some kind of structure and flow to the illustration) I originally had "Webber" (the female figure to right) in a 3/4 shot facing slightly to her right, but decide against this because it didn't flow with the rest of the pic. So, I tried a head and gun shot only, plus minimized the amount of her body showing, (with shadows) to give her pic a more menacing and dangerous feel. (she is an assassin you know)
Note: this rough was drawn fairly small, about 6 x 8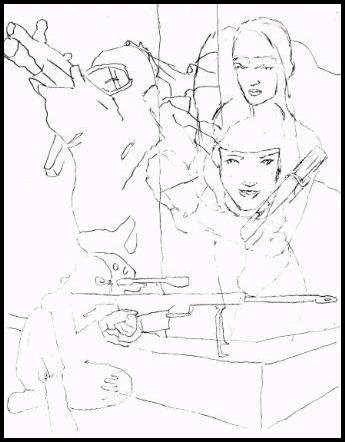 Now it's time to tighten up my roughs. First I blow up my roughs to approximately 11 x 17, then I light box that image and start to add the details. My favorite part about pic is that I love drawing guns and the more details the better. But, I still don't add all the details yet, I want to leave something to the inks.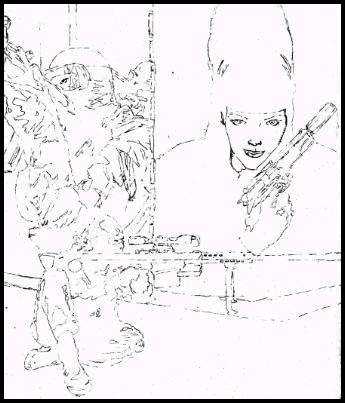 Now the hardest part, THE INKS! I'm not the world's best inker, but I find my stuff looks the best when I ink it myself. I like to make my pencils semi tight, but not to the the point that I'm just tracing my pencils. Noooooo.... where would all the fun be in that. I like to leave some things up to my imagination, like the little cracks in the cement wall and floor or the little wrinkles on their clothes. This way I feel the pic has a more organic feel to it instead of looking perfect without any soul or life to it. I have been asked on several occasions if I did my artwork on the computer.... nope, it's all hand drawn.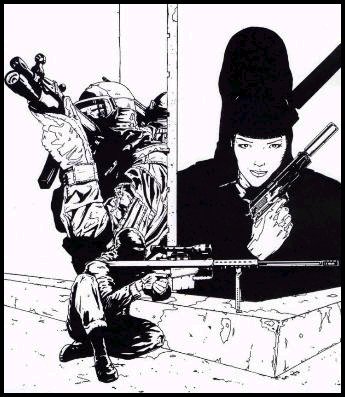 Now off to the colorist. The illustration was colored by my good friend Dan Kemp, who unfortunately has a very busy schedule, being the colorist for Image comics keeps him really busy, so he couldn't help out with this semi tutorial. But, he did do the color work for my next pic, which will hopefully get a spotlight at gameart in the future too.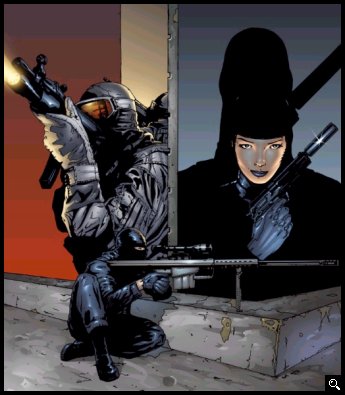 Oh.... this pic took, from concept to finished inks, about 12 hours to finish. Sounds like a long time, but 1/3 of that time was spent just coming up with the idea and roughing out something I liked.
Text written by John Bergerud & Dan Kemp for GameArt.com