GameArt Spotlight #21
"Dark Rider" by Jason Hall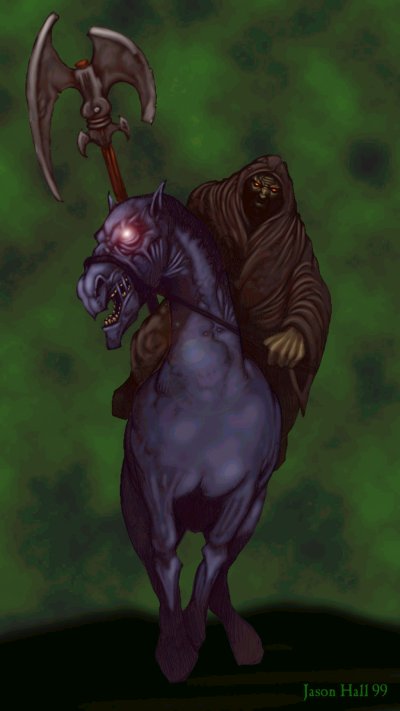 Image details
Title: Dark Rider
Gallery ID: 00567
Artist name: Jason Hall
Posting date: 1999-05-12 (a Wednesday)
Artist website: http://www.skinz-unreal.freeuk.com
Tags: ultima, online, horses, devils, lords, darkness, evil, knights, paintings, drawings
Image size: 30.81 KB
Votes: 30
Please be sure to read the Copyright & Legal information text on the About & Help page.
Spotlight article
Greetings all. My name is Jason Hall, and currently I'm a digital artist for VB Designs producing concept illustrations, textures and skins for a forth coming PC RPG called Demise which was to be produced by Interplay.
Most of my day is spent sitting at my PC making wall's and other textures for games. I have done my fare share of Unreal skins (commissioned) and skins for most of the best games around. However producing fantasy and Sci-Fi illustrations is thing I love best (apart from my wife Lynn hehehe).
Most of the time inspiration is not a problem, what with all the fantastic games and media out there. My current source of inspiration is Ultima Online which I have to admit I'm addicted to (almost as much as Unreal). I love producing my own compositions based on that world.
Once I have an Idea I do the illustration using a Bic pen (ball point). I don't use any pencils as I feel that if I can rub stuff out I'll never be happy with the pic and never get it finished. The Ball point pen is a wonderful medium to work in, allowing very subtle shading unlike a technical pen and it also scans very well.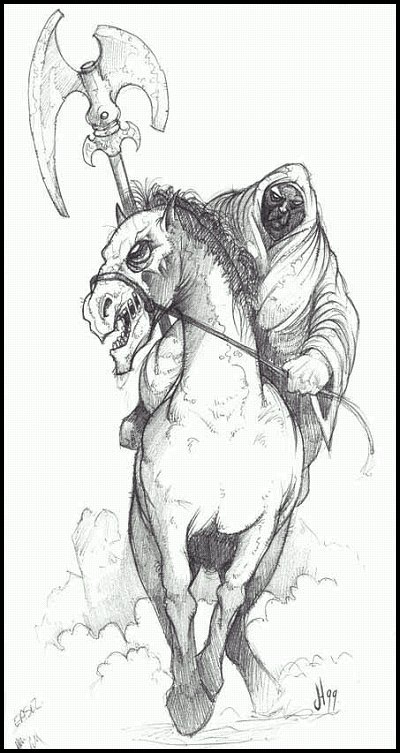 Once the sketch has been finished the artwork is then scanned and the colouring process can begin. For the colour rendering I use PhotoShop 5. Building the picture just like it was an oil painting. The whole pic is first given an all over tint or a wash of colour. Then I start on the detailing. I mask of areas and start building up the colour using the air brush tools. Once the masked area is completely finished I then create a new layer and start on the next area. A lot of the work is done using semi-transparent layers so I can see the original Image below. After I have finished the main character or central image I start on the background... this is the reverse from how traditional paintings are done. Most of the time I just do some sort of single colour background or use the cloud rendering filter in PhotoShop ( as in this illustration). But sometimes I go the whole hog and do a fully painted background or I use 3D Studio Max and produce a 3D rendering to use as a background.
This particular Illustration took between 4-6 hours from start to finish.
Text written by Jason Hall for GameArt.com