GameArt Spotlight #23
"The Opera" by Phantom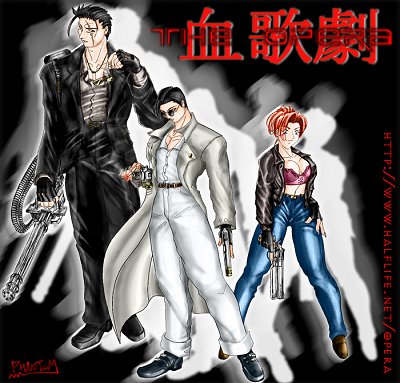 Image details
Title: The Opera
Gallery ID: 00589
Artist name: Phantom
Posting date: 1999-06-01 (a Tuesday)
Artist website: Unknown
Tags: half-life, halflife, hl, opera, anime, manga, drawings, paintings, characters, comics
Image size: 44.83 KB
Votes: 23
Please be sure to read the Copyright & Legal information text on the About & Help page.
Spotlight article
First off I croped the image down to a single character so everyone can see clearly what I did faster. All the other characters are drawn/shaded in the same way. The only things i used this time was Photoshop5.0, and a scanner. First I drew the basic lines on paper using 0.5/0.3 mechanical pencils, and then scanned it into Photoshop. After that I altered the curves to make the lines sharper, and to make the grayish paper texture dissappear, then took out the trash with eraser. If you dont know what curves are, I tried to describe it at the bottom.
Next, I shaded the image in black and white using brush/ airbrush/ smudge/ dodge/ burn tools and overlayed a scanned acctual leather of my jacket for the cloths to give it some texture.
When you shade it is advised that you shade the picture in by sections, as shown here. Select the section you want to work on with the magic wand (shortcut key = W), and then go into quickmask mode (shortcut key = Q) to edit the area in detail.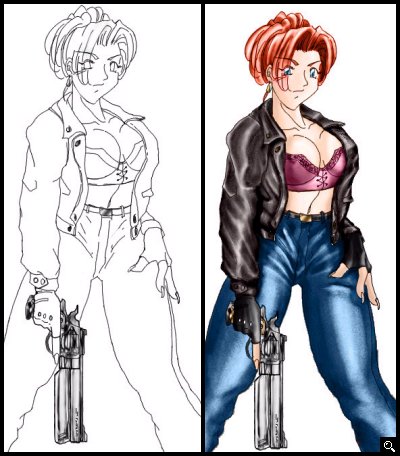 And here is the colored image. All coloring is done in a single layer which is in color mode, bellow you can see what it looks like by itsself. The black and the silver parts are left blank. This method lets you edit only the shadings more easily without having to mess with all the colors like when you try to shade with muliple layers using multiply mode.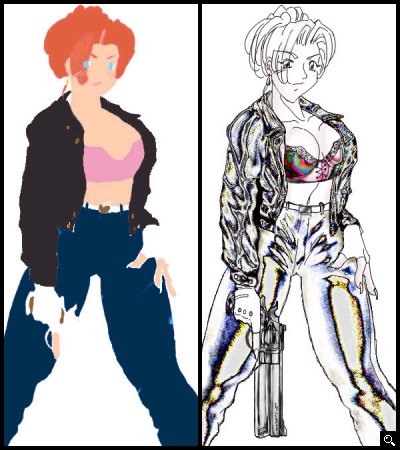 Now for a lil tip on the use of curves, and some other talk. Curves are graphs that let you alter colors or darkness of the colors in the layer you are working on. Above you can see what happened when i messed the curves in the jacket/ jeans layer really bad (whoa? T-1000!? MOMMY!!!). Now this is really useful when you are acctually tring to make a metallic object (shade the metal object in black and white, then alter curves), or tightening the lines that you scanned off of a paper (turn all the gray/ light grayish colors into pitch white, making the image clearner). You can bring up the curves graph by going to the menu Image/ Adjust/ Curves, or just by hitting ctrl+M. Some people that has visited The Opera (Halflife TC) might have noticed one of the pics in the right margin matches the guy in the center of this artwork, and if you put your mouse on it, it says "by Voldor". I just want to tell you I AM Voldor, and that is my drawing (just so that i won't get the "Goddammit!! you copycat!!" type of e-mails). I am also the Co-admin of AnimePlanet, the online source of information on Japanese animation. It is still in the stage of beta testing, but all the artworks/ menubars are there, and the 2 mascot characters are done by me, so if you want to check it out feel free =)
Text written by Phantom for GameArt.com