GameArt Spotlight #40
"Tempel" by Zman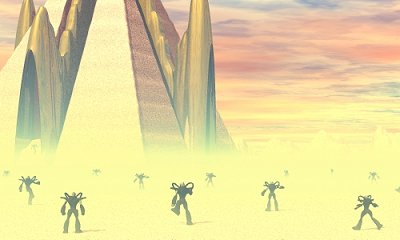 Image details
Please be sure to read the Copyright & Legal information text on the About & Help page.
Spotlight article
To create this piece I used MetaCreations' Bryce4, Kinetix's 3D Studio Max 2.5 and Adobe's Photoshop 5. I started with creating the Zealot character using "Nurbs", I didn't put that much work on details because the mesh was gonna be small in the scene anyway (like you can see in the final picture above). I selected "Edit Mesh" and selected faces to adjust the multy/sub object material.
Next step was to smooth the mesh using "Meshsmooth" and fixing it a bit with "Edit Mesh". I also added the "Belts", and the blades for some other scenes.
When the mesh was ready I started working on the character's movements using "Edit Mesh". I made about 8 different positions and exported them into .3ds files.
I opened Photoshop and made a simple 2D black & white gradients and mirrored it (as you can see below), I opened Bryce 4 and used its powerful terrain editor to create the temple out of the gradients.
After positioning the temple and adjusting the scene render size I started working on the atmosphere. I added some far mountains and adjusted the fog, haze color and density. I wanted it to be pretty sandy and foggy to give it a desert feeling. After that I worked on the sky using a regular sky with regular clouds and adding an unrealistic colorful cloud layer below it.
After almost everything was ready, I started importing the meshes (characters) I created with 3D Studio Max and positioned them all over the place.
Text written by Zman for GameArt.com