GameArt Spotlight #41
"Stilletto Anyways" by Patricio Soler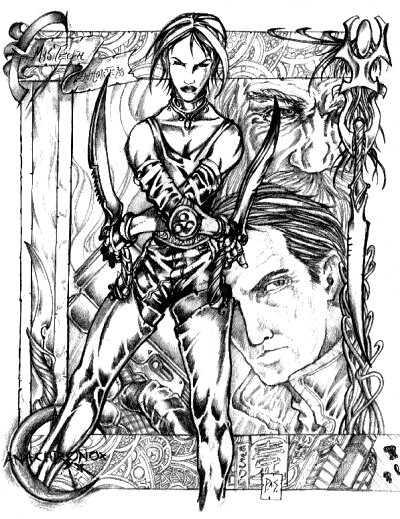 Image details
Please be sure to read the Copyright & Legal information text on the About & Help page.
Spotlight article
Since I've only had formal instruction in 2D art, and having only just begun working with Adobe Photoshop, I'll try and describe the process I go through in creating my "framed" drawings. Working with multiple picture planes to create depth was something I came up with in college during my thesis project (more on that some other time).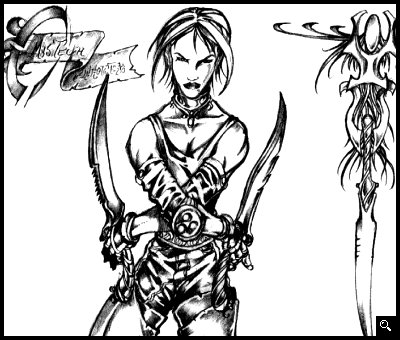 I had already drawn the main figure during my four-hour-long special education class. I had a rough thumbnail sketch to work from that I'd drawn while watching the Anachronox video demo and her 3d model from the 'Nox website. I decided not to stick with the exact clothes from the demo, since fans are going to see her in those through the whole game anyways (at one point I thought about a cocktail dress but it would be tough to incorporate the knives and city backdrop). I came up with the large knives so that her relatively small frame would be more pronounced (the same reason a superhero wears a cape).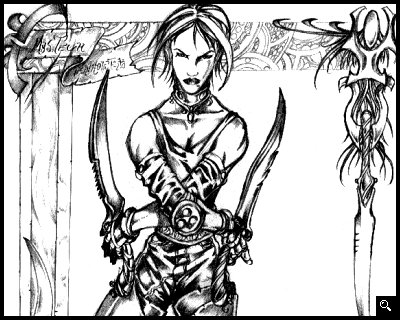 I began work on the frame, but found myself troubled by her right leg. It was stretched and portraying attitude, yet unfinished because the paper wasn't the right size (remember, this had started out as a doodle in a class). I also didn't have the 'Nox logo in front of me either. Lastly, I didn't know jack about the character and my ignorance hindered completion of the frame and backdrop.
Once home, all my questions were answered when I cracked open an old comic adaptation of "Blade Runner" by Marvel comics. I guessed at the the rest of the frame and took a chance with the background character faces. The last step involved scanning it, fudging the brightness and contrast levels and emailing it to all the right people.
Am I happy with it? Yes and no. The pose works to a degree, but I would have preferred to draw some tight heels at the end of those legs. The frame is a LOT of guesswork...more than I'm used to since I enjoy expressing the character's persona within the borders. But I have to remind myself it started with a doodle, on crappy inkjet paper, in the middle of class. Now if I can find somebody to copy their notes....
Text written by Patricio Soler for GameArt.com