GameArt Spotlight #46
"Raziel Soul Reaver" by Ben Naaman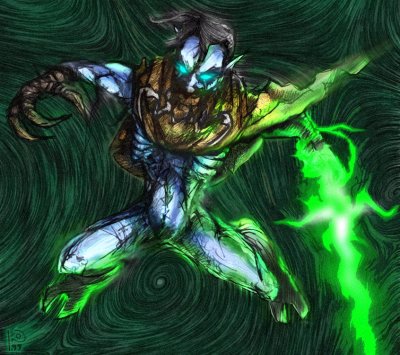 Image details
Title: Raziel Soul Reaver
Gallery ID: 00783
Artist name: Ben Naaman
Posting date: 1999-12-05 (a Sunday)
Artist website: Unknown
Tags: soul, reaver, drawings, playstation, graves
Image size: 41.67 KB
Votes: 22
Please be sure to read the Copyright & Legal information text on the About & Help page.
Spotlight article
So, the first thing you wanna do is draw a sketch of course, I started with a simple 0.5 mechanical pencil on A4. Since i didn't intend on scanning this particular picture of Raziel, i didn't bother with cleaning it up or inking it first- though you might wanna do those to get a more clean look (so i'm lazy- shoot me!). After scanning the sketch at 250 dpi something like this came out: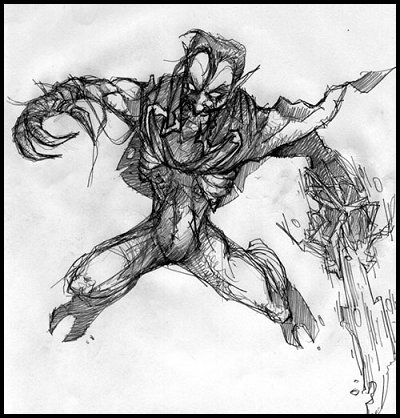 Straight it went to Photoshop 5.0, I always start working on my pics at high resolutions- something like 2000x2000 which gives you much more control on details and a smoother look after you scale the final image to a reasonable size. The next step should be cleaning the image up a bit- you might try the high Brightness/Contrast way- but i found that with this kind of sketchy drawings you would do better with using the excellent Cutout filter. if you set the filter to maximum lelvel of detail, minimum simplicity and maximum fidelity you should get something like this: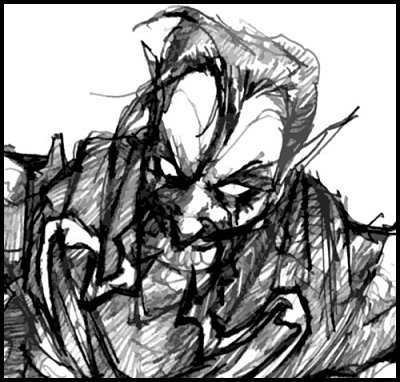 The cutout filter gives it a more "Comic Book Inking" kinda look, but should be used in high res or it'd be too rough to color. Next step is of course the coloring stage. for the coloring of this particular image i created a copy layer which was set to very high brightness.I used the magic wand tool on the background of the sketch and inversed my selection so now only Raziel could be colored. Next, basic colors were used with a normal setting (didn't mind the sketch- since i had that first layer). After applying the Sketch layer something like this should come out: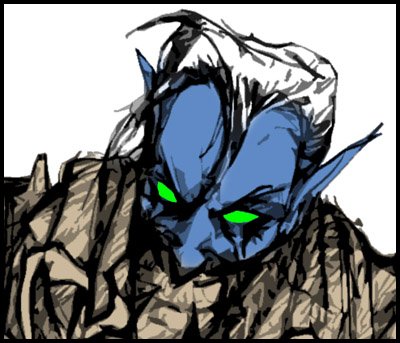 After the basic coloring is finished some detailing work should be done, for he shadows and highlights i use the Multiply and Burn/Dodge brushes, for the eyes and the sword i used Eye-Candy's Glow filter and for the background - the Swirl filter.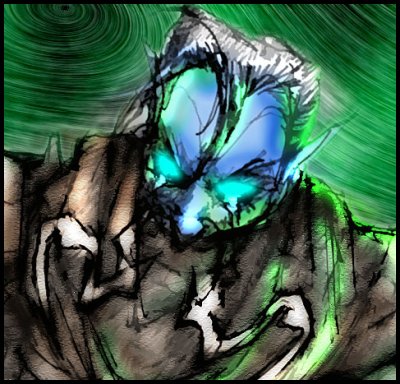 For the final touch i crop the image, scale it down from high res 2000x1700 to 800x700 and give it a grainy look with the Noise filter. And after a total of 30-40 minutes of work i got a picture i was satisfied with.
Text written by Ben Naaman for GameArt.com