GameArt Spotlight #78
"Daggermaster" by Sigbjorn Kronenberger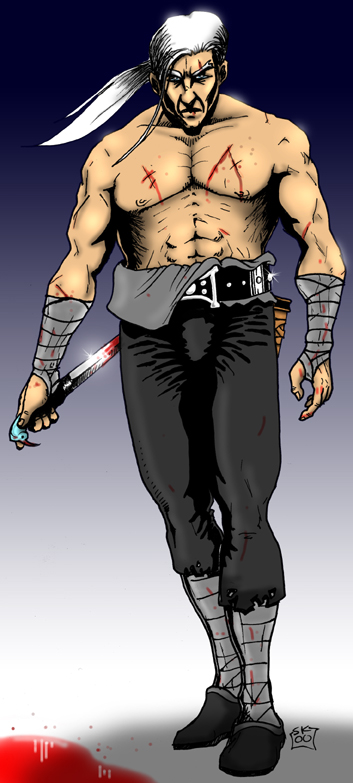 Image details
Title: Daggermaster
Gallery ID: 01017
Artist name: Sigbjorn Kronenberger
Posting date: 2000-09-23 (a Saturday)
Artist website: http://home.no.net/kberger
Tags: Street, Fighter, martial, arts, karate, kung, fu, kungfu, drawings, characters, bruce, lee, lee, ryu
Image size: 162.68 KB
Votes: 22
Please be sure to read the Copyright & Legal information text on the About & Help page.
Spotlight article
Firstly I pencilled the drawing on paper ( unfortunately I don't have the drawing anymore, as I've already inked it. ) After inking it I scanned it in as a greyscale picture 300 dpi.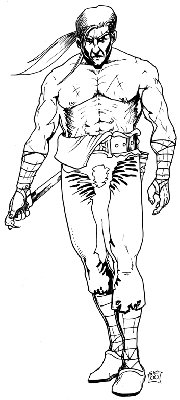 I opened it in Photoshop for the finishing. I then proceeded to put in the darkest shadows and color on his pants on separate layers in multiply mode As seen on Daggermaster.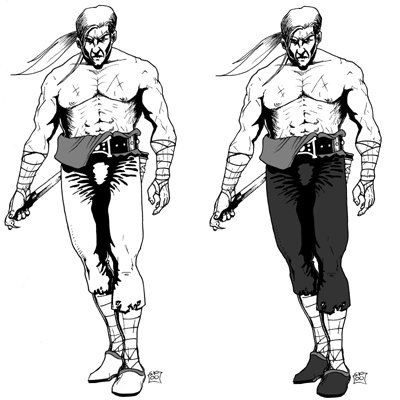 After that I put in the skin tone and used the burn and the dodge tool for depth ( highlight and shadow ).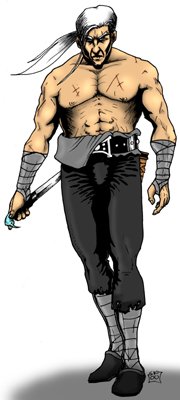 Using the same technique I painted some blood on him and some reflection, which I made simply by painting with the airbrush ( 50% ) lightly over the areas I wanted to be reflected. For the sparks I used one of the built-in brushes provided with Photoshop.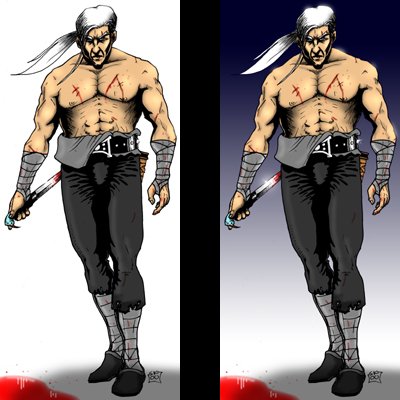 Finally I made a gradient of dark blue to white and put it in the background. That's it!
Text written by Sigbjorn Kronenberger for GameArt.com