GameArt Spotlight #9
"Quake Pizzas" by Sockit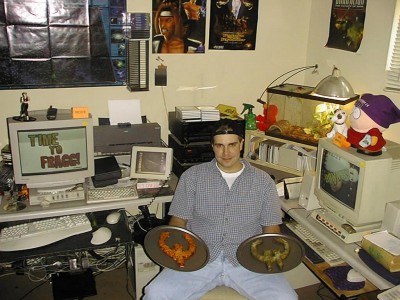 Image details
Title: Quake Pizzas
Gallery ID: 00504
Artist name: Sockit
Posting date: 1999-02-12 (a Friday)
Artist website: Unknown
Tags: Quake, Quake2, Pizza, cook, lan, party, lanparty, netzwerk, terror, photo
Image size: 43.61 KB
Votes: 54
Please be sure to read the Copyright & Legal information text on the About & Help page.
Spotlight article
I guess you could call this piece of art "unique".
This required no previous experience in the use of Photoshop 5.0. Nor did I spend 15-20 hours working on my art. And once I had a finished product, I could indulge myself and eat my art.
I had been talking about the idea for a Quake and Quake 2 logo pizza in early January at the local Quake clan I belong to, Netzwerk Terror [NT]. And when the time finally came to "create" my pizzas, it coincided with the 4th NT Clan Quake Tournament on January 30, 1999.
The Quake pizza was a tomato and basil sauce with colby and Monterey jack cheeses covering it. The Quake 2 pizza was an Italian pesto and basil sauce, giving the pizza its green color, with Romano (no, not John) cheese sprinkled on top.
I had all intentions of mixing and rolling my own pizza dough, but I was pressed for time, so I substituted a 1 lb. loaf of frozen bread dough for the crust. The pictures may be a bit misleading, but the pizzas were not all that large. My first attempt had to be scraped after the pizza pan I created the Quake logo on would not fit into the over. So much for advanced planning.
I used a small tupperware bowl turned upside down to form the dough around, to give me the general circle, comprising both Quake symbols. After manipulating the dough to the desired thickness and curvature, it was time to make the spikes. I did attempt to give some form to both, but when the dough cooked up, all form was lost, but they still turned out better then expected.
After finishing both pizzas crusts, I popped them in the oven at 350 degrees for about 15 minutes. Just enough time to get the dough to rise. I then removed the pizza logos and covered them with their appropriate toppings. Then it was back to the oven for another 15 minutes.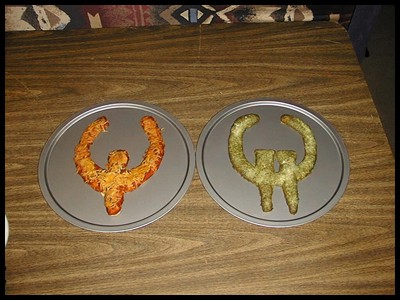 After cooking, I removed the excess cheese and sauce around the pizza edges and sort of cleaned them up a bit. The pizzas then made their way to NT Clan headquarters, hosted by dEucE and MiMiMeister. Once there we enlisted the services of RichDog and his Agfa ePhoto 1280, digital camera for a few pictures of the cook and his pizzas. The photos which were submitted were not retouched using any graphics programs.
As for an encore to my Quake logo pizzas, I have not put too much thought into it quite yet. But if and when I do, I may have to begin writing, "The Quake CookBook: Quick Steps to Fragging and Frying."
Text written by Sockit for GameArt.com