GameArt Spotlight #96
"Quake4 Box Artwork" by Ww3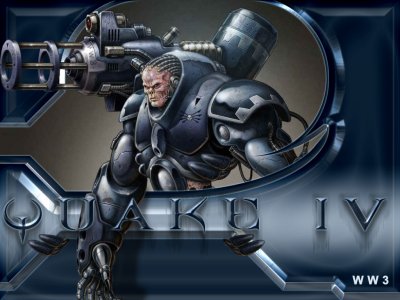 Image details
Title: Quake4 Box Artwork
Gallery ID: 01223
Artist name: Ww3
Posting date: 2001-09-04 (a Tuesday)
Artist website: http:/www.worldwar3.cjb.net
Tags: Quake4, concept, covers, monsters, id
Image size: 28.98 KB
Votes: 46
Please be sure to read the Copyright & Legal information text on the About & Help page.
Spotlight article
Well, it started out with the long-rumoured announcement of Quake4, at this year's QuakeCon. The rumour had been in the air for a couple of weeks, and now it was confirmed. With the announcement accompanied by the first piece of artwork, I got an idea to spice up that picture into a good looking desktop wallpaper.
I started out with the basic elements, I wanted a framework to surround the picture, and of course the Quake 4 name as it will undoubtly show up on the boxcover of the game.
To make the framework, I initially started out using diagonals to give the picture a industrial style as that was so appearant in Quake 2. As Quake 4 takes place in the same universe as Quake 2, that seemed appropriate. (regretfully, I don't have any pictures from that; I made this one in a few hours) That didn't come through good enough, so I included some round shapes to spice things up..
Next came finding the right combination of effects to make it look like a whole. After I found the right combination of colors everything started to look tidy; I made a second frame layer to partially cover the first one, I gave this second layer a higher, more complicated bevel, as well as a white band to accentuate the letters. Combining that with the dark stains around the QUAKE IV letters, made a satisfying contrast.
In the end I cut the original artwork of the cyborg into different layers, so that they would overlay my work in some, and be covered by it in other, places.
If anyone still has any questions, email me.
Text written by Ww3 for GameArt.com