GameArt Spotlight #64
"You Talkin' To Me?" by Larry Bundy Jr.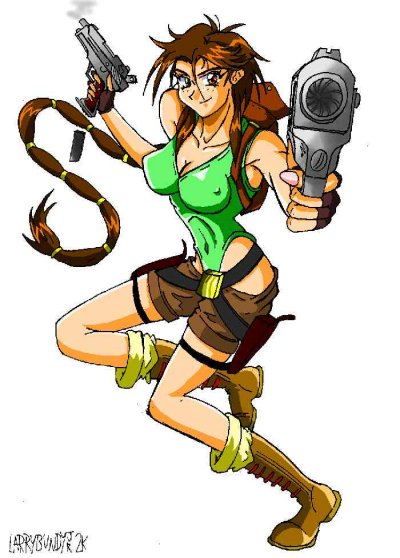 Image details
Title: You Talkin' To Me?
Gallery ID: 00913
Artist name: Larry Bundy Jr.
Posting date: 2000-05-29 (a Monday)
Artist website: http://www.nerv.org.uk/art.html
Tags: Tomb, Raider, last, revelation, lara, croft, girls, sexy, women, woman, guns, paintings, drawings
Image size: 45.8 KB
Votes: 26
Please be sure to read the Copyright & Legal information text on the About & Help page.
Spotlight article
The original idea for a mangaized Lara was from drawing a montage for a friends Dreamcast website of all the characters in DC games.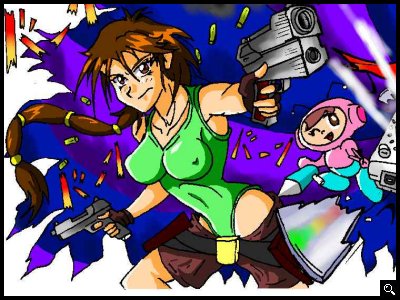 The original pencil designs (I never bother with expensive art equipment, I always draw on common or ordinary A4 Ink Jet paper, and just get standard Staedtler HB pencils whenever I go to supermarkets that stock school equipment) were of a more traditional manga-esque Kenichi Sonoda (Gunsmith Cats, Bubble gum crisis) pose, but looked rather static and boring so by placing one of Lara's arms way off in the distance and the other "up close and personal" James Bond esque looking down the gun barrel, it gave the picture more depth, interest and action. One of the hardest things to do on a manga character is the face, esepcially not eyes a "fish eyed" look, in my opinion it's the make or break of the picture (Bodies are pretty much standard looking the world over) then inked it, scanned it in at about 125 DPI and began colouring the pic.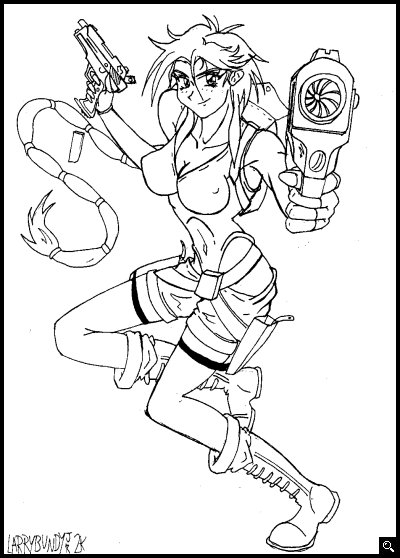 As I am a Manga artist for a living (My comic, Natural Born Kittens! is about to be released in the US soon!), I'm always on the lookout for art programs that have a rich animation cel quality like look to the pictures, and the only one i've found that can create it is Paintshop Pro 4, So I have a tendency to use that pretty much all of the time. It's not really fancy compaired to some of todays programmes, but it's easy to get to grips with and gets the job done. Well, If it ain't broke, don't fix it!
As anime art is pretty much standard block colours put in percific places to give their characters and objects a more 3D rounded look (the old Japanese minimum effort, maximum impact approach) , there isn't much need to airbrush the picture, But being me I usually do! ;-) I always airbrish Guns in pictures, as it's nigh-on impossible to get the shiny silver look on a gun using the standard block colour technique. But luckly, it dosn't take away the anime look of Lara. Suprisingly the colouring didn't actually take all that long, with all the fiddly bits, and wasting time by having to colour some pixels individually, it only took the best of three hours to complete. But i'm pretty chuffed with how it came out in the end!
Text written by Larry Bundy Jr. for GameArt.com